MID-RANGE MODELS

AWT's Mid-Range Drying and Storage Racks combine affordability and versatility, and are popular for use in commercial workshops, studios, educational facilities and other institutional settings. These durable and versatile mobile racks are widely used as screen printing racks, storage racks, poster racks, print racks, or as drying and storage carts to securely store and safely transport screens, artwork, prints, or other flat panels in your shop or classroom.

Featuring a new frame design for faster assembly, our Mid-Range Drying and Storage Racks include lightweight shelves that snap into place quickly and easily. Rubber bumpers maintain the proper shelf spacing while all steel-construction provides a super sturdy frame. Unique design allows narrow, rigid products such as fiberboard, cardboard or plastic to extend beyond shelf size, facilitating use as large screen print storage racks, rolling screen racks, or mobile poster racks.

Available in a wide range of sizes, these sturdy racks feature rust-resistant, powder-coated shelves with rubber bumpers for proper spacing, casters for easy mobility, and all-steel construction for durability. AWT's Mid-Range Drying and Storage Racks offer many of the same features found on our best-selling heavy-duty industrial models.

Standard Features         
Ideal for workshops, studios, schools, institutional use
Sheet Sizes From 18" x 24" To 20" x 26"
All-steel welded frame construction
Powder-coated, rust-resistant shelf finish
Rubber bumpers assure proper shelf spacing
Casters for in-shop mobility
Easy-action shelves snap into frame
Ships disassembled via UPS or FedEx
Options and Accessories
Extra rubber bumpers
Shelf extenders
Rack assembly
Spare parts and components
Mid-Range Model has 6 models
1 of 6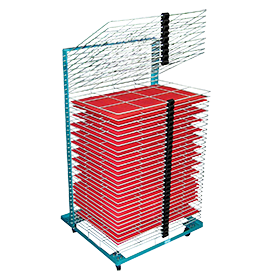 DR-24-40A
Product Description
Brand
Description
In Stock
AWT
RACK-IT PORT-A-RACK 40 SHELVES 18" X 24" SHELF SIZE
Shipping Description
Number of Shelves
40
Shelf size
18.00" x 24.00"
45.72cm x 60.96cm
Base & Upright (LxWxH)
N/A
Total shipping weight / # of pieces
72.00 lbs
32.66 kg
Shipping dimensions (LxWxH)
43.00" x 27.00" x 9.00"
109.22cm x 68.58cm x 22.86cm
Shipping service
UPS / FEDEX
2 of 6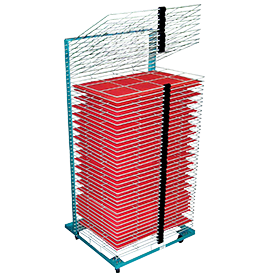 DR-24-50
Product Description
Brand
Description
In Stock
AWT
RACK-IT PORT-A-RACK 50 SHELVES, 18 X 24" SHELF SIZE
Shipping Description
Number of Shelves
50
Shelf size
18.00" x 24.00"
45.72cm x 60.96cm
Base & Upright (LxWxH)
N/A
Total shipping weight / # of pieces
84.00 lbs
38.10 kg
Shipping dimensions (LxWxH)
53.00" x 29.00" x 11.00"
134.62cm x 73.66cm x 27.94cm
Shipping service
Parcel
3 of 6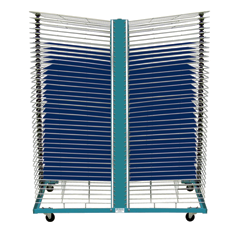 DR-24-80
Product Description
Brand
Description
In Stock
AWT
RACK-IT PORT-A-RACK 80 SHELVES, 18 X 24" SHELF SIZE
Shipping Description
Number of Shelves
80
Shelf size
18.00" x 24.00"
45.72cm x 60.96cm
Base & Upright (LxWxH)
N/A
Total shipping weight / # of pieces
126.00 lbs
57.15 kg
Shipping dimensions (LxWxH)
26.00" x 20.00" x 13.00"
66.04cm x 50.8cm x 33.02cm
Shipping service
Parcel
4 of 6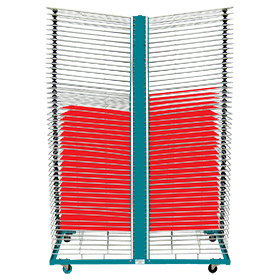 DR-24-100
Product Description
Brand
Description
In Stock
AWT
RACK-IT PORT-A-RACK 100 SHELVES 18" x 24" SHELF SIZE
Shipping Description
Number of Shelves
100
Shelf size
18.00" x 24.00"
45.72cm x 60.96cm
Base & Upright (LxWxH)
N/A
Total shipping weight / # of pieces
163.00 lbs
73.94 kg
Shipping dimensions (LxWxH)
53.00" x 28.00" x 13.00"
134.62cm x 71.12cm x 33.02cm
Shipping service
UPS / FEDEX
5 of 6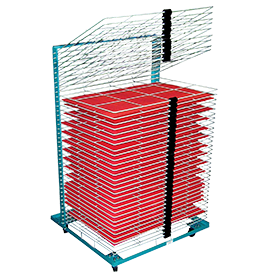 DR-26-40
Product Description
Brand
Description
In Stock
AWT
RACK-IT PORT-A-RACK 40 SHELVES 20 X 26" SHELF SIZE
Shipping Description
Number of Shelves
40
Shelf size
20.00" x 26.00"
50.8cm x 66.04cm
Base & Upright (LxWxH)
N/A
Total shipping weight / # of pieces
86.00 lbs
39.01 kg
Shipping dimensions (LxWxH)
53.00" x 28.00" x 10.00"
134.62cm x 71.12cm x 25.4cm
Shipping service
Parcel
6 of 6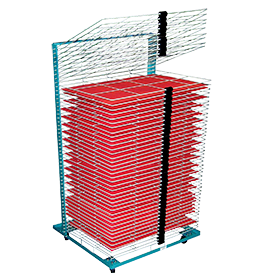 DR-26-50
Product Description
Brand
Description
In Stock
AWT
RACK-IT PORT-A-RACK 50 SHELVES 20 X 26" SHELF SIZE
Shipping Description
Number of Shelves
50
Shelf size
20.00" x 26.00"
50.8cm x 66.04cm
Base & Upright (LxWxH)
N/A
Total shipping weight / # of pieces
89.00 lbs
40.37 kg
Shipping dimensions (LxWxH)
53.00" x 28.00" x 10.00"
134.62cm x 71.12cm x 25.4cm
Shipping service
Parcel